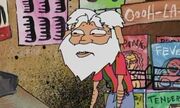 Boyd is a soft-spoken, passive clerk of the local convenience store. He is commonly being robbed by Early. A running gag in the show is that his left hand being shot off.
Boyd plays a minor role in all the episodes, usually seen as a background character, or a victim of Early's actions. He is robbed for unknown reason most of the time, but a reason will come on some occasions.
Early will at times pay for things in the store with money he robbed from the store.
He stood up to Early in Gun of a Son by threatening him with a shotgun by shooting his bag off(With the shotgun pellets glazing his head too!)
Ad blocker interference detected!
Wikia is a free-to-use site that makes money from advertising. We have a modified experience for viewers using ad blockers

Wikia is not accessible if you've made further modifications. Remove the custom ad blocker rule(s) and the page will load as expected.