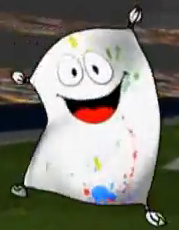 Drop Cloth is a character that stepped in halfway through the Tool Dash race in S2E11, along with Extension Cord, Plywood, and Patio Furniture.
After a tie with Extension Cord, he swiftly killed the latter in the ensuing Battle Royale cage match.
According to Sheriff, Drop Cloth always wins these things.
Ad blocker interference detected!
Wikia is a free-to-use site that makes money from advertising. We have a modified experience for viewers using ad blockers

Wikia is not accessible if you've made further modifications. Remove the custom ad blocker rule(s) and the page will load as expected.