Glug is a beverage created by Early Cuyler and distributed by Dan Halen Sheet rock international that has spawned several merchandise such as Key chains and hats as well as being very popular among the Dougal county residents. Despite the considerably large amounts of problems associated with the drink (i.e. it causes permanent blindness), no warnings are ever placed.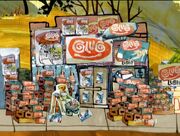 Other than being featured in Office Politics Trouble, Glug is never seen more than just another prop. Usually appearing as an advertisment or being drunk by characters.
Other than its original appearance, Glug has not shown its problematic side effects again.