(voiced by Patricia French)
Lil Cuyler is the aunt to Rusty and the sister of Early. She sports a blond wig very similar to Hedwig's from Hedwig and the Angry Inch. It has been proposed that she has a red mullet under her wig, as shown in the final scenes of the two-part season finale, "Not Without My Cash Cow." It is more likely that this is a one-off hairdo used to impersonate Rusty's trademark locks. Despite being a squid, she has large deformed breasts that lack nipples and areolae. She wears heavy pink makeup on her cheeks and long pink nails on her tentacles. If one listens carefully, the clicking of Lil's nails may be heard as she walks on hard floors. She runs the local Hair Salon / Peanut...ery... ("P-Nuts + Hair-doos") in the Cuylers' home. She is also a methamphetamine user and has her own personal crystal-meth lab. She raised Early's son, Rusty, for 15 years after Krystal didn't want him and put him by her doorstep. Lil raised him until Rusty permed the Sherriff's hair with meth and the lab was found in her home, making Rusty a ward of the state.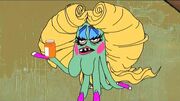 Lil was the voice of reason in the Cuyler family near the early days of the show, although being a stereotypical southern junkie. Lil would remark on the stupidity and ignorance of the rest of the family, while engaging in some strange activity. Since then she has received little attention, and is usually passed out from an overdose of drugs or alcohol. However, the fifth-season premiere shows this to be a ruse, with Lil using her periods of burnout as a decoy to prevent anyone from detecting her underground drug operation, which she dictates through a hole in their home's floor. During the time of her extended unconsciousness, she was married to an ultra-violent (even more than Early), America-hating extraterrestrial character named Lerm who decapitated her seconds after the marriage. She is shown to be having Aqua Blue eyeshadow and a blond wig with curls similar to Hedwig Schmidt from Hedwig and the Angry Inch, which the creators admitted they are huge fans of. She can speak spanish (a skill she uses in her marijuna growing operation). She is also truck stop prostitute (which admitted to being one in the episodes "The Good One" and "Clowny Freaks") and doesn't use protection (claiming her trucker clients don't like to use condoms) which resulted in her giving birth to several children in "The Good One", one of whom Early becomes attached to and later named Hershal Walker Cuyler (the rest of Hershal's brothers and sisters ended up being raised by Rusty). In "Clowny Freaks", she is also shown to prostitute herself at a child's birthday party (along with Granny) and even provided her services to the local carnival sideshow freaks when the trucker money dried up (it is also indicated by a comment made by Early that this may be another form of income for the Cuyler family, along with their drug operations, and Early's job working for Dan Halen).
Ad blocker interference detected!
Wikia is a free-to-use site that makes money from advertising. We have a modified experience for viewers using ad blockers

Wikia is not accessible if you've made further modifications. Remove the custom ad blocker rule(s) and the page will load as expected.