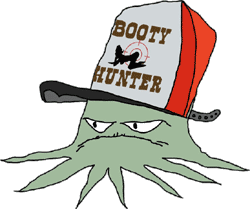 Squidbillies is a series on Cartoon Network's Adult Swim about a family of hillbilly squids and was created by the same team behind Aqua Teen Hunger Force and The Brak Show.
The history of the series is rocky at best. Originally, the pilot was to air on November 7, 2004 with the full series coming out several months later. However, after several weeks of promoting and advertising Squidbillies, Adult Swim aired a pilot episode of Perfect Hair Forever, an anime parody also in development, followed by an unusual talk show about Perfect Hair Forever featuring Meatwad, Sharko and Early Cuyler with Space Ghost moderating.
Initially, the overwhelming majority of viewers thought that Squidbillies didn't exist and that Adult Swim was pulling an elaborate prank on its audience, even though footage of the pilot was shown at the 2004 San Diego Comicon and DragonCon. It was later revealed that the script for the pilot episode had been rewritten several times and the animated product was eventually scrapped weeks before the advertised airdate. The newly retooled pilot was aired in pieces on April 1, 2005, in a secret sneak preview. The official first episode finally aired on October 16, 2005.
Background
Edit
Although Squidbillies is mostly episodic, the show does have a substantial back-story:
Millions of years ago, the Atlantic Ocean flooded North America. During this great flood the waters reached all the way to the Ohio Valley.Over time, the water subsided to form the geography we have today, and within that geography, deep in the North Georgia Mountains, were stranded a little family of squids. The Squidbillies, as they are known today, are led by patriarch Early Cuyler and live in a world full of fighting, feuding, and fornicating. Squidbillies!
In the first episode, Early attempts a sexual encounter with Krystal, a large, horizontally-oriented caucasian woman (let's be PC y'all) that lives in town. In exchange for sex, Krystal forces Early to procure for her a Walkman, which he does by robbing a liquor store. When Krystal later wants cassettes, he repeats the offense, gets arrested, and serves the next fifteen years in prison. While Early does time, Krystal does time, too: 9 months worth, to be exact. It turns out that Krystal was pregnant with Russell "Rusty" Cuyler, Early's son and heir. But Krystal, unready for motherhood, leaves Rusty at the door of Lil Cuyler, Early's "party 'til you vomit" sister. Lil raises him for the next fifteen years until an unfortunate raid at her house uncovers the family meth lab. Who knew a squid could be so scientific! Anyway, Rusty becomes a ward of the state of Georgia.
After running away, Rusty coincidentally finds his father in a chain gang. The Sheriff takes pity on them and releases Early to take care of his son. Now free, Early eventually finds employment as a corporate scapegoat for the local evil corporation, " Dan Halen Sheetrock International" who just happen to be growing clones of the Sheriff in a local field. The cloned sheriff subplot serving as a way to switch voice actors for the part.
Other issues the family face are their overt racism against white people, whom they refer to as "chalkeys" (Early's dalliances with Krystal aside), their need to home school Rusty, and even run-ins with celebrities.
The series was renewed for a third season of twenty episodes, which began airing January 20, 2008.
The Series was renewed for a fourth season, which began airing on may 19th,2009