Truck nuts, where an accessory placed on vehicles in
Dougal county
. It was a stereotypes of a useless fad, having different versions of the product as well as selling out certain editions and being grabbed by several citizens. Early Cuyler purchased a standard version of Truck nuts in order to seem more manly however he later disposed of them, due to his jealousy of Granny Cuyler having a chrome and more detailed version of truck nuts.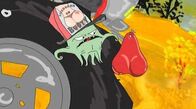 Characters who have purchased truck nuts
Edit
Ad blocker interference detected!
Wikia is a free-to-use site that makes money from advertising. We have a modified experience for viewers using ad blockers

Wikia is not accessible if you've made further modifications. Remove the custom ad blocker rule(s) and the page will load as expected.